Carol with her talented husband, Mark, in their jazz/pop duo M-Squared.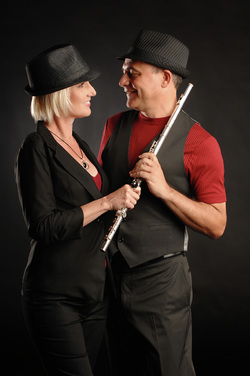 Carol and Mark met while they were music students at Arizona State University. They both played piccolo in the Sun Devil Marching Band and it didn't take long for them to become good friends and a few years later be married.
M-Squared performs jazz and pop music at private parties,
restaurants, corporate events, and
indoor and outdoor concert venues. Performing artfully on flute and voice (Carol) and piano (Mark) creates a beautiful, engaging musical experience for their audiences. In addition, their exceptional talent and versatility enables them to perform elegant classical music for flute and saxophone or two flutes.
---
Eclectic Music Mix: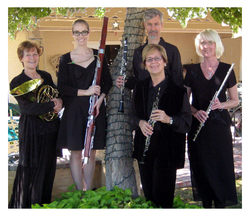 Any size ensemble can be formed to fit your musical needs. Carol performs with top valley musicians and can bring together the perfect ensemble for your event. Styles of music performance available include Jazz Standards and Great American Songbook, Classical Music, Liturgical Music, and past and current Singer Songwriters (Elton John, Carole King, Sheryl Crow, Jack Johnson, John Mayer, Jamie Cullum, Madeleine Peyroux, Sara Bareilles, Melody Gardot, Ingrid Michaelson, Adele, Sting, Anna Nalick, Nora Jones, Carol Mellis and more).
Photo: Coast-to-Coast Woodwind Quintet
---